Cornichon is a powerful tool you can use to dynamically profile Mac OS X applications on the system and track the process' performance over time.
Figure 1: Profiling Safari with Cornichon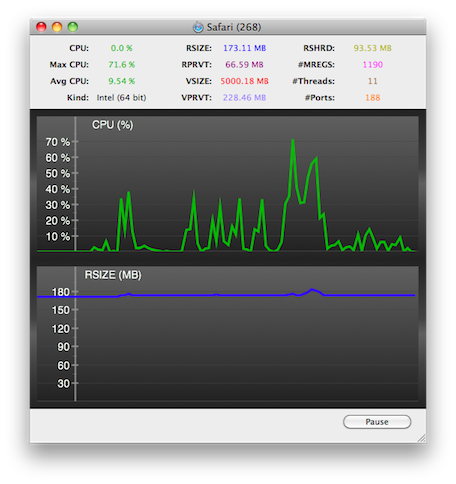 The Cornichon application includes the ability to:
Profile Mac OS X applications
Profile iPhone applications running in the iPhone simulator
Examine the behavior of one or more processes
See the different collected data of a process in real time in a graph
Export the data as TAB files that you can later easily import in Apple Numbers or Microsoft Excel
With the Cornichon application, you can inspect different aspects of a process' behavior:
CPU usage
Resident memory size (RSIZE)
Resident private address space size (RPRVT)
Total memory size (VSIZE)
Number of threads
…
Why using Cornichon?
Apple provides several tools that allow you to profile Mac OS X applications: Activity Monitor, Instruments, and some command line tools like top or ps.
But none of these tools provide a real-time graph to profile a specific application:
Activity Monitor has no graph view which makes it difficult to see how the process' performance evolves over time.
The 'Activity Monitor' template of Instruments only monitors the system workload but not the workload of a specific application.
Cornichon System Requirements
Mac OS X 10.5.8 or later.
Universal application (for both Intel and PowerPC-based Macs).
FAQ